I am participating in the Spooktacular Blog Hop Giveaway! It's a chance for a bunch of book blogs to hold a giveaway at the same time, so you can visit a bunch of different giveaways! I'm super excited, and it also happens to coincide with my 10 Days of Halloween, so think of this giveaway as part of both events!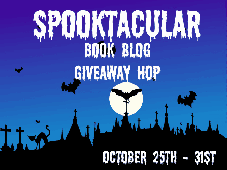 My Giveaway: A copy of the book Halo by Alexandra Adornetto. I've read it once, so it's gently used, but still in great condition! I took the cover off so it's still perfect. I'll have a review of this book posted later this week too!
This giveaways ends on Sunday, October 31st!

Rules:
Enter by filling out the form below.
There are no ways to gain extra entries for this giveaway, sorry! I want to make it as simple as possible, since I'm having a lot of giveaways right now.
Must be at least 13 years old to enter
This contest is open to US only! Sorry international followers, enter my other giveaways.
Only fill out the form ONCE per person!
You must be a follower of Book Infinity.



Go to all these awesome blogs to check out other giveaways going on this week as part of the Spooktacular Blog Hop! Thanks for stopping by!